This will drive lefties who like to point to Canada's health system as a model for the US crazy, but they're much more free market-oriented than we are these days in other areas, and they treat savings in a more intelligent fashion. There are some very good ideas in here we should emulate, as well as looking at the Australian and Chilean national pension models as a replacement for the failing Social Security.
International Liberty
Since all economic theories – even Marxism and socialism – recognize that capital formation is a key to long-run growth, higher wages, and improved living standards, it obviously doesn't make sense to penalize saving and investment.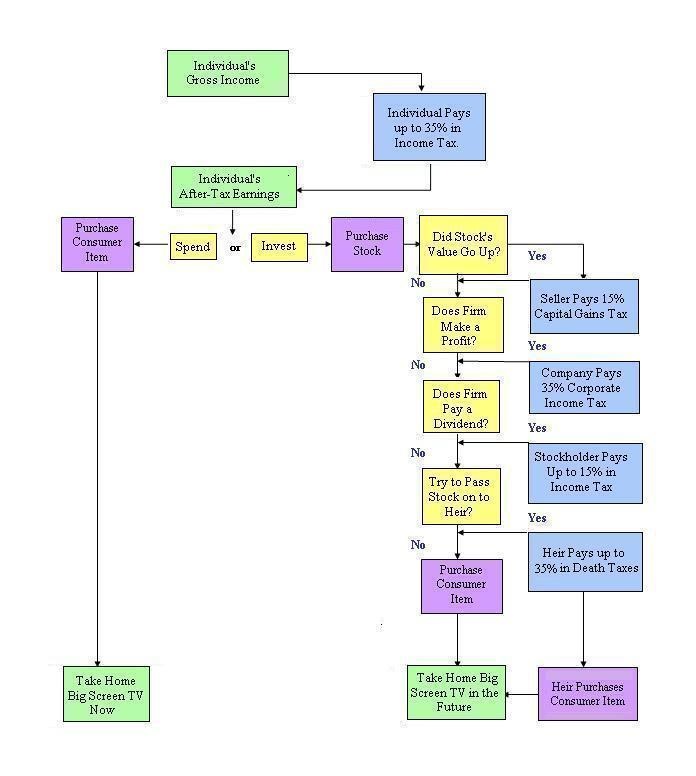 Yet that's exactly what happens because of double taxation in the United States, as can be seen by this rather sobering flowchart.
So how can we fix the problem? The best answer, particularly in the long run, is to shrink the burden of government spending so that there's no pressure for punitive tax policies.
Good reform is also possible in the medium run. Policy makers could implement a big bang version of tax reform, replacing the corrupt internal revenue code with a simple and fair flat tax. That automatically would eliminate the tax bias against saving and investment since one of the key principles of the flat tax is that income…
View original post 1,120 more words